PCStage Playlist Utility
Introduction
This small utility is intended to simplify the creation of pre-show and other music for shows run by PCStage.
To use it you need to have a directory with a collection of either MP3 or .WAV files that you would like to use for your show.

Installation
Download the file playlist.exe and place in a convenient location on your PC. Create a desktop shortcut.
Creating a Playlist
Start PCStage, and start the Server plugin.
Start Playlist.
Use the browse button to navigate to the directory where your music is.
Select the format (MP3 or WAV) using the file type.
Press the Search button to create a list of files
Press Send to PCStage tosend the playlist to PCStage.
What happens now is that a new Desk is created in PCStage, called PlayList, which is populated with play commands to play the tracks sequentially. You need to create a audio wave track called "PlayList". There are no level commands generated, so if level control is required place it as necessary.
Using a Playlist
This is how I do it, normally I use the music before the show and during the interval, so I have a timed event to kick things off.

The timed event kicks off a cue...
Which has detail like this: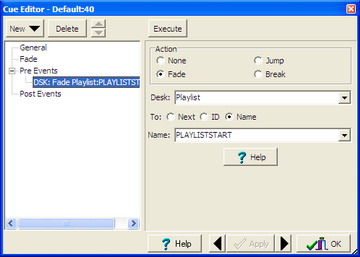 The playlist now runs.
When you want to go the show, fade out the music like this: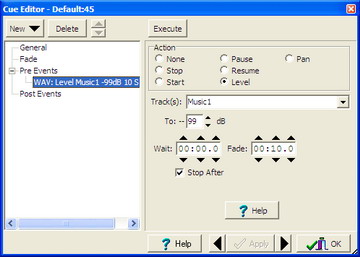 At interval, do another cue with a desk event similar to the cue with the start event, but for the "To:" field chose the "Next" option rather than naing a specific cue.
Thats it.
---
You can contact the author by using this contact form.